AiR Sound Source
19 Tones
8W+8W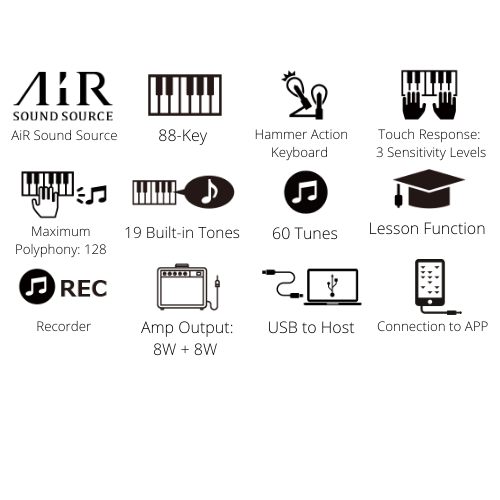 Features
Sound Technology

Unprecedented Natural Reproduction of the Rich Expressive Power and Resonance of an Acoustic Piano
Multi-dimensional Morphing AiR Sound Source
The characteristics of CASIO's newly developed Multi-dimensional Morphing AiR* Sound Source reflect thorough attention to detail in expressing the rich, resonating tones inherent to the piano. The capacity of the installed memory has been expanded to achieve a longer sampling duration and enhanced waveform data quality. The temporal changes in tone that create sound you would expect only from a piano, beginning with the initial sound and leading into a beautiful extension until the sound eventually vanishes, are reproduced naturally.
*AiR = Acoustic and Intelligent Resonator
> Learn More
Keyboard System
Natural Playing Feel Approaching That of a Grand Piano Firm Touch That Converts the Player's Thoughts into Sound

Tri-sensor Scaled Hammer Action Keyboard II, with a grand piano's unique sounding timing
The difference between the sound structures of a grand piano and a digital piano appears as a difference in timing, from the moment the instrument is played until the sound is audible. The new Tri-sensor Scaled Hammer Action Keyboard II responds by incorporating a system with three sensors that detect touches of the keys sequentially.
> Learn More
Simulated ebony and ivory keys with optimal fingertip fit for playing ease
The Simulated ebony and ivory keys offers the luxurious feel and texture as well as the smooth touch of a grand piano keyboard. The minutely detailed crimp surface finish inhibits finger slippage due to sweat and gives the sensation of a perfect fingertip fit, even when playing for extended periods.
An unprecedented evolution of the digital piano
Damper Resonance achieving a more naturally beautiful resonance than a pedal
The deep, beautiful resonance resulting from the use of a damper pedal is also reproduced naturally by a stereo resonance simulator installed on all 88 keys, an approach that differs from conventional simulated reproduction employing effect processing. The attention to detail goes so far as to simulate the resonance created by the lifting of the dampers themselves when the pedal is pressed.
Concert Play
High-quality audio data recordings of 10 live orchestra performances are installed. Pianists can play along with the recordings and enjoy the feeling of participating in a magnificent performance.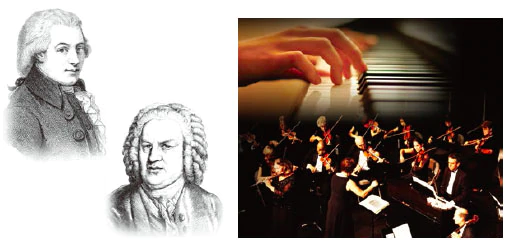 Versatile features
19 high-quality tones including stereo-sampled grand piano tones
Digital Effects: Reverb (4 types), Chorus (4 types), Brilliance, DSP (preset for some tones)
Connection to App (Chordana Play for Piano Special Site)
Lesson feature using 60 Music Library songs plus 10 user loaded songs
GRAND PIANO button, ELEC PIANO 1 button
MIDI Recorder: 2 tracks x 1 song, approximately 5,000 notes total
USB flash drive port
AUTO POWER OFF
Specifications
Keyboard
88-key, Tri-sensor Scaled Hammer Action Keyboard II, Simulated ebony and ivory keys
Touch Response
3 sensitivity levels, Off
Sound Source
AiR Sound Source
Damper Resonance, Hammer Response, Damper Noise
Maximum Polyphony
128
Tones
19 built-in tones: Grand Piano (Concert, Mellow, Bright), Modern Piano, Rock Piano, Jazz Piano, Elec Piano 1, Elec Piano 2, FM E. Piano, 60`s E. Piano, Harpsichord, Vibraphone, Strings 1, Strings 2, Pipe Organ, Jazz Organ, Elec Organ 1, Elec Organ 2, BASS (LOWER)
Layer/Split
Layer (Excluding bass tones), Split (Low-range bass tones only)
Digital Effects
Reverb (4 types), Chorus (4 types), Brilliance(-3 to 0 to 3), DSP (Preset for some tones)
Built-in Songs
10 (Concert Play), 60 (Music Library) songs
Song Expansion
10 songs (max.) Up to approximately 90 KB/song
Lesson Function
Part ON/OFF (Lesson part: Right hand/Left hand)
Metronome
Beats: 0 to 9 (Tempo range: quarter note = 20 to 255)
MIDI Recorder
2 tracks x 1 song, approximately 5,000 notes maximum, real-time recording/playback
Other Functions
-Connection to App
-GRAND PIANO button, ELEC PIANO 1 button
-Duet Mode
-Slide-type keyboard cover
-Auto Power Off: Off after approx. 4 idle hours (default setting)
-Octave shift: ±2 octaves
Key Transpose
2 octaves (-12 semitones ~ 0 ~ +12 semitones)
Tuning Control
A4 = 415.5 Hz ~ 440.0 Hz ~ 465.9 Hz
Pedals
3 pedals (damper, soft, sostenuto)
MIDI
This product is not equipped with MIDI terminals. MIDI communication between the product and a computer is performed using the USB port.
Speakers
12cm x 2
Amp Output
8W + 8W
Input/Output Terminals
-PHONES/OUTPUT x 2 (Stereo standard)
-USB: type B
-External power (12V DC)


* USB cable (A-B type) required to use USB terminal for computer connection.

Power Requirements
AC Adaptor: AD-A12150LW
Dimensions (W x D x H)
1,391 x 299 x 798 mm (w/o music stand)
Weight
31.5kg (w/o music stand)
Body Color/Finish
PX-770BK: Black wood tone finish
PX-770WE: White wood tone finish
Included Accessories
AC Adaptor (AD-A12150LW), Music Stand
EAN code
PX-770BK: 4971850362302
PX-770WE: 4971850362326
Built-in Songs
Nocturne Op.9-2
Fantaisie-Impromptu Op.66
Étude Op.10-3 "Chanson de l'adieu"
Étude Op.10-5 "Black Keys"
Étude Op.10-12 "Revolutionary"
Étude Op.25-9 "Butterflies"
Prélude Op.28-7
Valse Op.64-1 "Petit Chien"
Valse Op.64-2
Moments Musicaux 3
Impromptu Op.90-2
Marche Militaire 1 (Duet)
Frühlingslied [Lieder Ohne Worte Heft 5]
Fröhlicher Landmann [Album für die Jugend]
Von fremden Ländern und Menschen [Kinderszenen]
Träumerei [Kinderszenen]
Tambourin
Menuet BWV Anh.114 [Clavierbüchlein der Anna Magdalena Bach]
Inventio 1 BWV 772
Inventio 8 BWV 779
Inventio 13 BWV 784
Praeludium 1 BWV 846 [Das Wohltemperierte Klavier 1]
Le Coucou
Gavotte
Sonatina Op.36-1 1st Mov.
Sonatine Op.20-1 1st Mov.
Sonate K.545 1st Mov.
Sonate K.331 3rd Mov. "Turkish March"
Rondo K.485
Für Elise
Marcia alla Turca
Sonate Op.13 "Pathëtique" 1st Mov.
Sonate Op.13 "Pathëtique" 2nd Mov.
Sonate Op.13 "Pathëtique" 3rd Mov.
Sonate Op.27-2 "Moonlight" 1st Mov.
Rhapsodie 2
Waltz Op.39-15 (Duet)
Liebesträume 3
Blumenlied
La Prière d'une Vierge
Csikos Post
Humoresque Op.101-7
Melodie [Lyrische Stücke Heft 2]
Sicilienne Op.78
Berceuse [Dolly] (Duet)
Arabesque 1
La Fille aux Cheveux de Lin [Préludes]
Passepied [Suite bergamasque]
Gymnopédie 1
Je Te Veux
Salut d'Amour
The Entertainer
Maple Leaf Rag
L'arabesque [25 Etüden Op.100]
La Styrienne [25 Etüden Op.100]
Ave Maria [25 Etüden Op.100]
Le retour [25 Etüden Op.100]
La chevaleresque [25 Etüden Op.100]
No.13 [Études de Mécanisme Op.849]
No.26 [Études de Mécanisme Op.849]